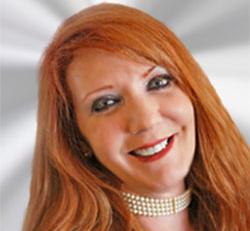 Ext: 1951

Ariel
$2.99

Phone

Career / Work, Intuitive, Clairvoyant, Clairaudient, Pets/Lost Pets Communications, Medium, Empath, Psychic

No tools, can use cards upon request.

Friendly, Compassionate, Inspirational, Straightforward
Available Appointments
Select an available date and time on the calendar below to schedule your next reading!
Know more about Ariel
A naturally gifted Empath/Psychic/Medium, and Psychic Life coach, Ariel exudes confidence with a bubbly personality! She uses the finally turned attributes of Clairvoyance, Clairaudience, Clairsentience, and Empathy to offer you candid and precise insights into your crucial questions. She connects to the energies surrounding the information involved in each situation, even pets! With her energetic, forthright and honest approach, Ariel does not sugar-coat, nor does she tell you what you want to hear, she tells you what she receives. If you are ready for answers, Ariel will be honest, straight-forward and say it like it is!
Reviews
"I've talked to a few psychics, an it seem as though , what they said didn't come to be. So, it made me very Leary on psychics. However, the times I've talked to her, things seemed to be on point . She , tells you to be patient, an things will show. An it has happened. She, is my go to person. "
- Jimmie
"I was skeptical, at first , because a couple of psychics, I've talked to , it seem , as though things never came about. However, with Ariel , I must say , 90% of what she has said has come to be . Maybe not exactly all the time , but, very close. Which is amazing. She is my prime go to person. You , just have to be patient, an allow."
- Jimmie
"Ariel always channels with specific details that leave you with tools to go forward. She's one of the best! Thank you, Ariel. "
- Samantha
"Ariel is always so clear with her messages from spirit guides. I always come out of her sessions with direction, understanding and clarity. Thank you Ariel! "
- Samantha
"Hey Ariel! Thank you so much for giving me messages from my guides about the new forensics job and new long term partner! I cannot wait for those things to happen and will give you an update when they do :)"
- Sierra
"I am reading with you for a quite some time now and I hope that I can ultimately let you know that it's me and The guy with the blue eyes. I kinda got confused today because I know there was no where we encountered each other I would have known So it got to be still to come No way he would be in a room with me and I won't know or even passing by It really confused me deeply Hopefully by the time I talk to you again you will know I was right"
-
"I will wait the two months out...and let you know "
- Antoinette
"I will call Thursday..and let you know after Hopefully more detail will show by then"
- Antoinette
"Could this mystery man be our Doc??? Posing as an alias..lol. I know it sounds shocking but after we talked that thought hit me...?? I will talk to you on Tuesday hopefully we get answers.. "
- Antoinette
"It's all still sinking in... But I know now it's all real... I will try to budget so I can talk to you early August. And we can see Where things are at"
- Antoinette
"Something happened a few days ago...I am in total shock..it started with a message on Facebook And it escalated to every day communication... The man is a well known public figure And day he is in love with me... Could this be what you saw???? I am talking to you on Friday I am in Shock It feels like a dream...maybe you already know who he is when you see this review Before I tell you Friday...its not the Doc. "
- Antoinette
"I kinda feel I want to chat again maybe Saturday. Maybe there's a bit more detail by then"
- Antoinette
"I lost my job today...so yes its a pity I did not got a heads up on that one If I got funds next week I need to see what you get The Doc is now needed"
- A
"Once again cut off But I will be in touch around the 14th with you Take care till then Xx"
- A
"We got ended abruptly as my time ran out. Let's chat this week maybe Tuesday Xx"
- A
"Still waiting on Doc Let's talk Saturday to see if he plan on hitting that send button before June is out. Big hugs "
- A
"I will chat on Tuesday am Wanna give a few more days to see if I can tell you good news... Talk Tuesday! Xx"
- A
"I be back on Saturday am to finish the last message you picked up on. Sorry I ran out of funds But I wanna know what you Had to say about the visit to him with mom back in 2017 Hope I may have good news by then to share with you big hugs xx"
- A
"I actually saw the big red apple sign very close to my work area. So...I am curious now lol. Sending big hugs your way... Talk around the 18th Xxxx "
- A
"I am honest it was a tad bit not so much information today though I still respect trust and love you Ms Ariel I be back in touch around June 18... Big hugs "
- A
"AM is tough to wake up I moved it to the pm slot tonight at 10 hope you don't mind. Talk to you definitely at 10 tonight. Hugs A"
- A
"Hope to talk to you on Saturday am. Its really NEEDED.lol Xx"
- A
"The documenting you saw was actually a write up...at work.so that explains that. I got a couple of quick questions talk to you tomorrow... Xx"
- A
"Talk to you next week for sure Back to work as you told me and now all eyes for the "long awaited reconnect" lol. Think I got a spot booked with you for Wednesday Xx "
- A
"I can't wait to connect with you. Just kinda struggle to fit in with the avaliable times but hopefully soon"
- AB
"U were gone as I still wanted to know... But I be back next week...Take care Hugs xx"
- A
"I NEED to talk to you soon... Be sure to hear from me very soon.. Got lots of Questions???????? On Doc me family and future... Hope you stay safe Talk later this week...xx "
- A
"You say I am your favorite customer well you are my favorite psychic I totally trust your guidance Talk to you soon again"
- A&M
"Ariel is spot on I believe I will never go to No one else again. She is amazing"
- A
"I am definitely connecting with you next week You are amazing "
-
"I just want to send so much love to Ariel bc she really is a grounding, stable influence with her insights and presence. She doesn't sugar coat but she does tell you what you need to do to get where you want to be and that's priceless. Give her a call. Ten out of ten! Thank you! "
- Nicole
"Ariel is always on point. She provided very specific messages to my situation, which I validated on the spot. She connected immediately. Her reading of the situation was in direct alignment with my intuition. I will stay in touch. Thank you"
- Vg
"Thankyou miss Red....and I appreciate your patience with me and doc"
-
"Thankyou Ariel I think you are terrific"
-
"Thankyou Ariel I appreciate you guiding me through this"
- Antoinette
"I cannot say enough wonderful things about Ariel. She picked up on the situations going on in my life quickly, and I knew she was in communication with my guides through hers, which is something I do not generally feel with other consultants. She is the real deal, and she deserves your business. Thanks Ariel, you are awesome!!!"
- ToT
"Thank you very very much for the information that I have received from you I am truly looking forward to the future with her Thank You, God Speed. "
- Hollie4468
"Ariel was outstanding. She nailed every question, she even gave me dates and initials of people. I am in a total shock but she is the real deal. I will be keeping in touch when the rest unfolds."
- SG
"Excellent reading, very knowledgeable as well as very informative. I will definitely call back."
-
" Thank you Arielle for your guidance through this tough work situation. I am pleased to hear from the guides that I am handling things the right way."
- Vg
"Ariel is one of two psychics that I have found to be on the money. I shall continue to contact her as funds become available. Doesn't need prompting or info. Give her a try."
- D Eastwood
"Ariel is superb. A lot of the information she provided has already been validated! Thank you Ariel!"
- Vg
"Wow! Ariel is terrific! A true psychic. She told me things that she could not have known unless she was a psychic. I shall be calling her in the future. She tells you the truth not what you want to hear."
- D Eastwood
"She is the real deal! She got initials, personalities and situations correct with no information! I cannot wait to see how things unfold!"
- K.D.